June 2023
We love to follow the inspiring stories and successes of our project partners and the start-ups and companies we accompany. The hard and persistent work of entrepreneurs sometimes only becomes visible with a delay. That is why we take this opportunity to congratulate you and hope to inspire you with the success stories from the Konsultori universe. Let us cheer together. Congratulations!
I want to develop my business results with Konsultori.
Gate Space has been selected for a global accelerator programme
Amazon Web Services (AWS) has announced the 14 global space startups selected to participate in the AWS Space Accelerator. This technical and business mentorship programme helps startups advance their space solutions and accelerate their growth. Gate Space's mission is to enable the next generation of spacecraft. They develop environmentally friendly, chemical space propulsion solutions for the NewSpace economy. One of their investors is Austria's first and so far only astronaut in space, Franz Viehböck.
Congratulations to Gate Space on being one of the startups developing inspiring and innovative solutions to numerous sustainability challenges in space!
"Thank you Amazon, Amazon Web Services (AWS) and all the inspiring people such as Clint Crosier, Rich Julien, Michael Moreno, Amber Nightengale, Erin Jacobs, Curtis Hernandez, Allison Pryor, Annie Bricker, Rich Rosenthal (and many more) that are involved with the Space Accelerator for the support!

We are excited to build the next generation of autonomous in-space mobility and collision avoidance solutions together!"

Moritz Novak, LinkedIn
Klaiton is among the best management consulting platforms of 2023
Kudos to the Klaiton team for being voted one of the best management consultancies in the German-speaking world for the fifth time in a row. The list is compiled annually by brand eins based on votes from clients and colleagues. Klaiton is a consulting platform that brings companies together with independent and quality-assured consultants to achieve sustainable impact together. With a pool of over 1,050 consultants, and project and interim managers, Klaiton supports medium-sized and large companies in strategic and operational issues.
Mesensei on the rise
Mesensei joins the Microsoft Startups Founders Hub at Level 3 to work on enterprise solutions. This significantly accelerates growth in the enterprise market. This is a big step, congratulations!
What does this company run? Mesensei is a Mobile Platform as a Service (PaaS) for communities and ecosystems. With Mesensei, customers can launch their own unified community platform under their brand and data control.
"This is a very significant strategic step for us and it kicks off our entry to enterprise solutions. With over 270 million users, MS Teams is by far the most popular business communication platform globally. We are very excited about the opportunities the integration to MS enterprise ecosystem offers."

Tuukka Ylälahti, LinkedIn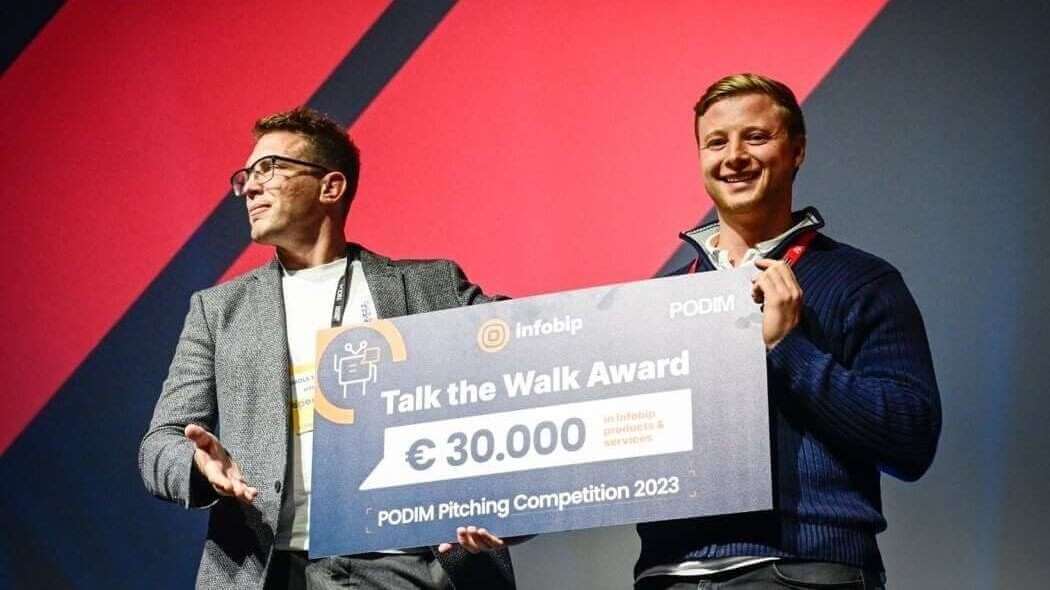 HerzensApp has won the "talk the walk award
Podim is one of the most important startup and tech events in Central and Eastern Europe. This year, the three-day event attracted more than 200 startups from 26 countries, more than 70 speakers from all over the world, more than 100 investors and numerous entrepreneurs and people interested in business. Remarkably, this year a record-breaking number of 1,220 meetings took place in the Podim Deal Room.
At the final of the Podim Pitching Competition, another startup was awarded in addition to the winner of the competition: Graz-based startup HerzensApp was chosen by Infobip because they see the greatest potential there. The startup received Infobip's services worth 30,000 euros. Congratulations to Konstantin Pollanz and Oliver Wimmer for their great product!
"With the HerzensApp ecosystem, we are making a significant contribution to combating the prevailing nursing emergency in Austria by revolutionising the nursing profession through process innovation and digitalisation.
With the HerzensApp, we help carers in mobile services to work independently and self-determined. Our platform supports carers in networking with those in need of care, relieves them of administrative tasks and digitalises the obligatory documentation. This massively reduces costs that are currently incurred for administration and management. Furthermore, caregivers save a lot of time, which allows a deeper focus on humanity and care work itself."

HerzensApp, LinkedIn
Azolla Ecosystems brings fish farming to restaurants
The freshly caught perch goes straight onto the grill and is garnished with just-picked herbs. Is this only a dream for city dwellers? No, thanks to Azolla Ecosystem it is possible, the project is already in the test phase.
Azolla Ecosystems is dedicated to the sustainable and local production of fish and vegetables with its aquaponics system. The fish are bred and the vegetables are grown in a closed cycle. With this new technology, restaurateurs and supermarkets are able to grow their own produce, on demand, always fresh and right where it is consumed or sold. The first vertical farm is located in Vienna's 2nd district, at the Dogenhof restaurant. We wish you much success with this innovative idea! Looking forward to the menu…
"A bit over a year ago I founded Azolla Ecosystems, to grow fresh fish and herbs in an urban environment. To show an alternative to conventional farming-, distributionmethods and consumption habits. I'm super proud how far we've gotten so far. Having installed the first ecosystem in the wonderful restaurant Dogenhof. Thanks brutkasten for this article! #letsgrowcrazy"

Philipp Loidolt-Shen, LinkedIn
I want to develop my business results with Konsultori.